Efforts for safety and comfort
ISO9001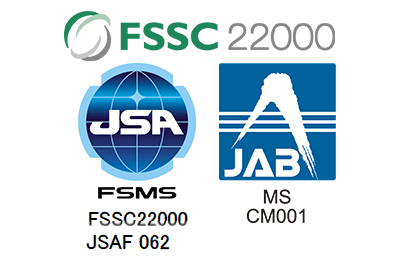 By adhering to ISO9001 at each step in the production process, from raw material selection to product shipment, we will always deliver products that satisfy our clients.
Policies on food safety and quality
We always aim to improve customer satisfaction by supplying tamari and other types of soy sauce that is safe to eat.

We place high priority on making sustained efforts to improve our product quality.
Safety of raw materials
High-quality raw materials are carefully selected and procured for our tamari soy sauce and koikuchi soy sauce.
Our products are made from non-genetically modified (Non-GMO) soy beans.

Efforts for the environment
We have made efforts to reduce waste by asking dairy farmers to use soy sauce lees, which are generated in the production process, as fodder for their livestock, and industrial oil and fat manufacturers to recycle our soybean oil as a raw material for industrial use.
Furthermore, we are making efforts to preferentially select materials, work clothes, fixtures, and other items with a low environmental load (green procurement).